Renewing The Past For The Future
Handpicked & Handmade
At Karimi Rugs knowledge meets best in class customer service. We strive to offer the best services and products from cleaning and restoration to the sale of fine quality, hard wearing Persian rugs and Oriental rugs. We offer a selection of some of the best quality and rare Persian, Afghan and other handmade rugs and carpets on the market today. These pieces are true works of art for those that love the beauty of rugs as well as a secure investment for the future. With our unmatched cleaning and restoration techniques we offer all our customers peace of mind in delivering quality and maintaining that quality to the highest standards.
Browse our online shop and buy with confidence or visit us in store at our showroom in Sevenoaks. With in situ viewing available why not take a look now.
- Rug Cleaning -
Fresh Beginning's
Key Points
the rug Cleaning process
Dust Removal From the Front And Back:
Your rug will have all dust removed with a specialised beating machine, we go over the entire rug.

Colour Testing To Guard Against Colour Run
Spot tests are given to the rug in order to know how best to proceed with any areas that might be sensitive to colour run.

Fully Submerged Hand Wash
Under freshwater and with the use of natural non-acidic shampoo we clean your rug throughout, from foundation to pile in the traditional way.

Excess Water Removal
Your rug will be placed inside a centrifuge where it will be spun safely to remove excess clean water and improve the drying time.

Air Dried
We never use heat or unnatural methods for drying! This can be dangerous and potentially cause serious damage. Instead, we allow for air to circulate throughout and provide the safest original techniques along with the use of dehumidifiers.

Resetting The Pile
The fresh pile of your rug is hoovered one last time and brushed by hand to reset the pile, allowing for it to be as good as new and soft underfoot!
Trust is the greatest asset within our reputation and is the reason we have so many return customers. That is why we initially identify your rug with a verified team member giving a face to face consultation. We highlight all areas in need of work with no obligation on your part. We are also happy to discuss the origins and history of your rug and cover any questions or concerns. Once complete checkup is given we take receipt of your goods with all relevant information noted, this is your proof of work and the total price. We guarantee to have no hidden charges! After the specialist rug cleaning process is completed we will call you to arrange a convenient time for delivery. This usually occurs within two weeks and we deliver back to your door. Help is also given in putting the rug back where you want with no extra charge.
Get in touch with us by clicking the link below for a free quote or to answer any questions you may have.
You can learn more about our specialist Oriental rug cleaning by clicking the link below
- Rug Restoration -
Creating Future Value
Our Advice
Why should I repair My Oriental Rug?
Small damage to your rug is essential to fix as soon as possible. A little maintenance on your rug will not only keep it looking beautiful but will also help stop any further damage and greater expense down the line. Generally, the common areas to get damaged are the fringes and the selvedge along the length of the rug. Over time wear and tear from daily use and vacuuming causes these areas to become frayed. Once this happens the main body of the rug is in danger as these act as a protective barrier, holding in the knots of your rug. Catching it before it gets too severe is therefore highly recommended especially with antique Oriental rugs.
More sever damage to a handmade rug such as flooding, moth damage and or fire damage is also undertaken in our rug repair workshop. All work is carried out by our team, under our strict supervision using traditional methods. Handmade rugs are always repaired by hand guaranteed.
We restore all types of handmade rugs, from Oriental silk rugs to Antique tribal rugs. Dealing with each rug on a case by case basis, we give you a thorough explanation of what we would need to do and exactly how we do it in the comfort of your home. Our collection and delivery service is always carried out by a qualified expert and we welcome any questions you may have.
All Restoration Carried Out By Hand
Moth Infestation

Flood Damage

Colour Run Removal

Selvedge Repairs

Fringe Renewal

Re-Piling Missing Knots

Foundation Rebuilding

Tears and Holes
Contact us for additional help or a quote as to how we will restore your rug back to perfect condition.
If you want to know more about how we repair Oriental rugs click below.
- Trusted -
Unrivaled Customer Care








Dedicated, Knowledgeable & Trusted. Our Reputation Has Been Built Over Two Generations
Ali Karimi, the founder of Karimi Rugs is a well-established figure in the UK and abroad. Known throughout London and South East England to both private clients and tradesmen he has been based and active in Royal Tunbridge Wells, Kent for well over 10 years. Carrying a reputation for his commitment to the highest customer service and knowledge on all aspects of rugs you can expect nothing but the best.
Handmade Traditional & Modern Rugs
Techniques and trade secrets have been passed down from Father to son making us leaders in the field both home and abroad. Our dedicated workmanship is shown in every fibre we touch. We specialise in all handmade rugs and carpets, Persian, Afghan, new or antique. Rug and carpet cleaning and rug repairs are all undertaken by us directly. Test our knowledge when deciding to go ahead with any one of our services. With us, you always know who you're dealing with!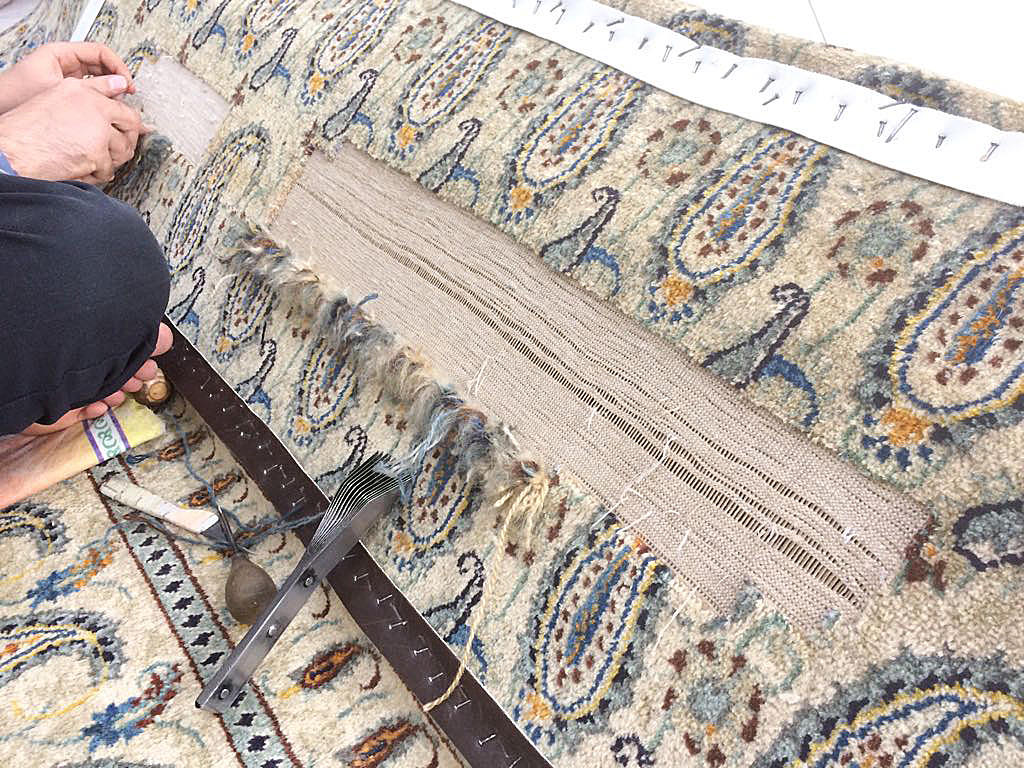 Handmade rugs and carpets are our passion, from modern rugs to classic Persian rugs, Afghan rugs, and carpets. It is in our blood and our heritage. We understand the importance each rug holds in your heart. When we clean or restore a rug, we treat it as our own, with respect, care, and love. We see handmade rugs and carpets as art and it is evident the moment you want to talk about the subject that this is something we live and breathe. We dedicated our lives to rugs, we dedicate our reputation on yours.